CORROSION PROOF MANUFACTURER
Our company surpasses every other company of India in providing effectual products and services related to chemical proof as well as Corrosion Proof in India.We are the top company offering high quality products for Acid Proof in India such as Furan Mortar, Phenolic Resin Mortar, Phenolic Mortar, Sulfur Mortar (Hot Pour Type), CNSL Mortar, A.R.Primer, Potassium Silicate Mortar and Sulphur Mortar etc.Our services like liquid applied S.S. coating, FRP lining and HF mastic acid resistant lining are very reliable and permanent. We are dedicated in relieving our clients from corrosion & seepage associated problems once forever. Hence we the considered as the most trustworthy and dependable Water Proofing & Chemical Proofing company in India. Corrosion Proof is a natural process which converts a refined metal to a more stable form such as its oxide, hydroxide, or sulfide.It is kind of protection against corrosion for controlling and stopping corrosion. In this their is gradual destruction of metal by chemical reaction as per their tendency or environment.This easily electrochemical oxidation of metal in reaction with an oxidant such as oxygen or sulfur is good to electrochemical corrosion. Corrosion can also occur in material other than metal, ceramics, polymer so to make it corrosion proof it is used for properties of material and structures including strength, appearance, resistance to liquid and gases.
CORROSION PROOF MORTAR | CORROSION PROOF MANUFACTURER
We have gained enormous appreciation from our customers, because of the methodical efforts of our skilled & trained workers who are supervised and guided by the diligent and dexterous professionals. We are proud to guarantee that our products are effective and excellent in quality and also our services are always unfailing, long-term and are accomplished on time.
Glass flake filled Lining Service.
We are the leading organization is among the most esteemed in the related industry, offering high quality assortment of glass flake filled Lining Service. Our company starts the service making sure the requirements and the applications of the clients are comprehended and are planned to offer maximum and very efficient service. Our services are in adherence to the industrial standards and are done with high quality materials and precise system. Our services are highly dependable, reasonable and custom-made. Our services are done on time under the supervision of experts.
Our Offered range of Corrosion Proof Coating is used in the construction of residential, commercial building, canals, road, bridges, offices, etc other projects. At our manufacturing unit mortar is processed with quality material, using latest technology and to eliminate hassle of manual work, as per the requirement of various industries is more demanded among the client as this coating is accurate in performance, user friendly, environmentally safe.
Enhanced shelf life
Accurate composition
Effective in usage
CORROSION PROOF SUPPLIER | CORROSION PROOF MANUFACTURER
These are specially preferred as well as applied for averting the water drippings and leaking in the roofs of any kind of building and enhancing their durability by making them absolutely water-proof. They are also quality confirmed and acknowledged for their value owing to their quality functionality as well as purity.
Corrosion Proof are used in the protection of instruments, piping, and hardware considered for use under experience to acids, alkalies, salts, and mordant gases. The conflict of a material refers to its ability to resist corrosion in a particular medium or group of mediums. A material that is challenging in one medium may be greatly broken in another. The ability of materials to defy oxidation at high temperatures in gaseous mediums such as air, oxygen, or carbon dioxide is called oxidation resistance. Oxidation-resistant materials consist of alloys of iron with chromium and alloys of titanium, zirconium, molybdenum, and tantalum. Metals  and non-metallic materials capable of to stand against the destructive action of corrosive mediums. This corrosion proof is a good material for resistance against rain, damage, acid proof resistance on floor, lining, water storage tank, road etc our offered range of chemical, corrosion proof material is used.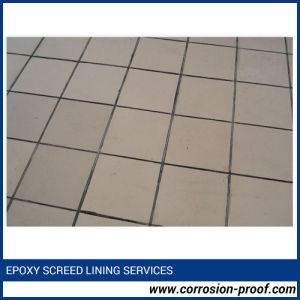 CORROSION PROOF | CORROSION PROOF MANUFACTURER | CORROSION PROOF EXPORTER | CORROSION PROOF INDIA | CORROSION PROOF SUPPLIER | CORROSION PROOF INDIA | CORROSION PROOF GUJARAT | CORROSION PROOF MANUFACTURER | ACID RESISTANT MORTAR